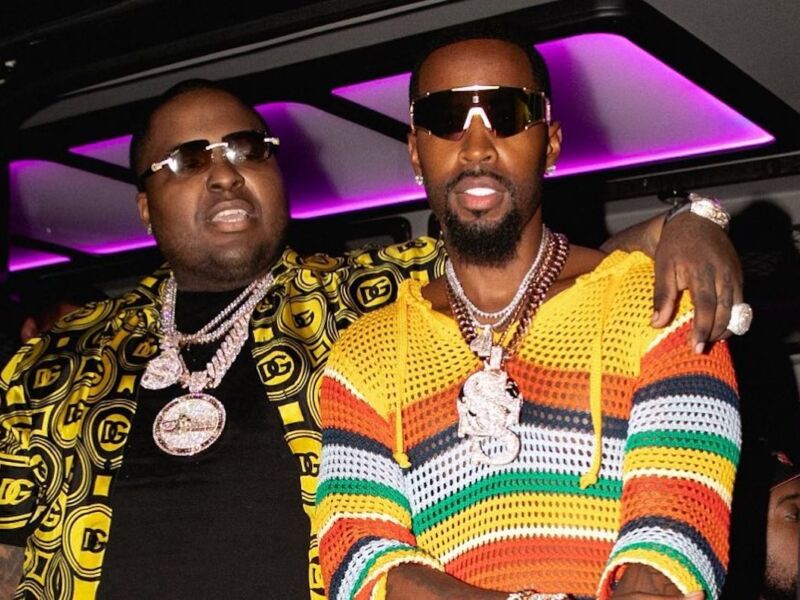 Safaree Lived With Sean Kingston For 2 Years After Going Broke After Nicki Minaj Split
Safaree Samuels shout-out Sean Kingston for giving him a place to stay when he went broke.
The Love and Hip Hop star was one of Sean Kingston's guest performers at last weekend's Chris Brown and Friends show at the National Stadium in Kingston. Among the other guest acts during the "Beautiful Girl" singer's set was Tommy Lee Sparta, who put on a stellar performance in front of a sold-out crowd.
On Thursday (August 31), Safaree shared a photo of himself and Sean Kingston sharing that following his breakup with Nicki Minaj in 2015, he went broke the following year, and Kingston and his mother, Janice Turner, housed him for two years until he got back on his feet.
"In 2016/17 I went broke and was living w/ [Sean Kingston] for almost 2 yrs," he shared on Instagram. "I am 4ever grateful to this man & his family! At 1 of my lowest times in life he held me down like no other! That's why I don't pay attention to this internet sh*t. My level of love and respect for the family is beyond measures! I really appreciate and thank you all! I love y'all 4ever from the bottom of my heart! [Mama Kingston] [Kanema Royal] I could go on 4ever but I just wanna say thank y'all! Being there for some1 when they have nothing is a lot different than being there when it's all good Be kind becuz you never know what somebody is going through."
Safaree fans also chimed in the comments, thanking Sean Kingston for what he did for his fellow Jamaica. Kingston also shouted him out on his IG Story, calling him a real friend.
Prior to his stint on the Love and Hip Hop franchise, Safaree went through a bitter breakup with Nicki Minaj before she officially dated Meek Mill in late 2014. Safaree and Nicki Minaj started out as part of the rap group Hoodstars and dated for 12 years before calling it quits. There were some rumors that it was Meek who told Minaj that Safaree cheated on her, and that might've been the catalyst of their eventual demise, paving the way for Meek to date Nicki.
In the years that followed, Safaree covered up a giant tattoo he had on his chest of Nicki Minaj and attempted to jump-start his own solo career as a rapper. He also accused her of not giving him writing credits on several of her music, including ones he said he co-wrote with her. Nicki Minaj pushed back and said she wrote all her music.
In 2016, Safaree filed a lawsuit against Nicki Minaj, which resulted in a heated social media back-and-forth between the two parties. Safaree later withdrew the lawsuit, and it remains unclear if he and Nicki Minaj reached a deal behind the scenes.
Nevertheless, Safaree moved on and joined the Love and Hip Hop franchise, starting with Love and Hip Hop: Hollywood, where his dating life became a focal point of his storyline. His long list of dating includes Ms. Nikki Baby and a rumored fling with Lyrica Anderson. He then moved to Love and Hip Hop: New York, where he started dating Erica Mena. The two later got married and had two children together. Safaree also appeared on the Atlanta and now Miami franchise of Love and Hip Hop, making him one of the longest-running cast members currently.