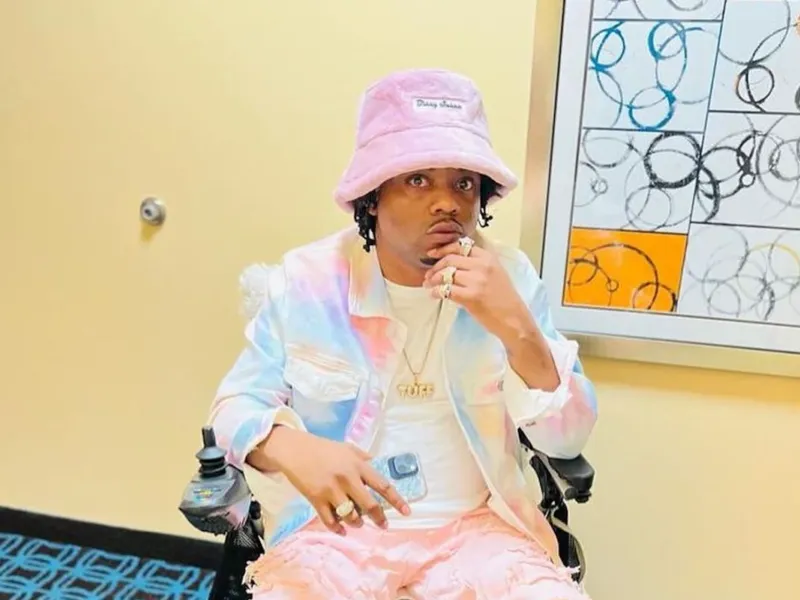 Rygin King Shares Progress Learning To Walk Again After Paralysis
Rygin King shares his progress from doing a new round of therapy to learning to walk again following paralysis from his waist down.
Urban Islandz reported last year that Rygin King real name Matthew Smith, was paralyzed from the waist down and had to be wheelchair-bound following gunshots wounds in a 2020 shooting incident that resulted in the death of his manager's wife. The dancehall artist and members of his team had stopped at the side of the road after their car had broken down when they were pounced upon by gunmen. The artist was struck three times but survived. The wife of his manager was also struck and succumbed to her injuries.
One of the bullets struck Rygin King's spinal cord, which may have resulted in him being paralyzed from his waist down. The deejay shed tears while performing for the first time in a wheelchair at his album launch party last year September in Florida. The Mobay deejay was performing with I-Octane when he broke done in tears belting out the lyrics for his "Therapy" single. The artist later revealed that he got emotional after getting a lot of love from the audience while belting out the heartfelt lyrics.
In a new video posted on his Instagram this week, Rygin King shared clips of his therapy sessions with his therapist strapping on mechanical legs on his body to aid him in walking. "God above all things," King wrote as he pushed through his therapy session in the video.
"Just know me believe yuh see me," he said while his song "Circumstances" played in the background. "Yeah man I'll be standing firm in a circumstances. On my way to recovery yo see me."
The single "Circumstances" is featured on his latest album, Therapy, now available on streaming platforms. Since becoming wheelchair-bound in 2020, Rygin King says he used music as a therapy and buried himself in recording new material. That renewed dedication to his craft gave birth to the 16-track album, which features songs like "Song Cry," "Unbreakable," "Broken," and the title track.
source: urbanislandz