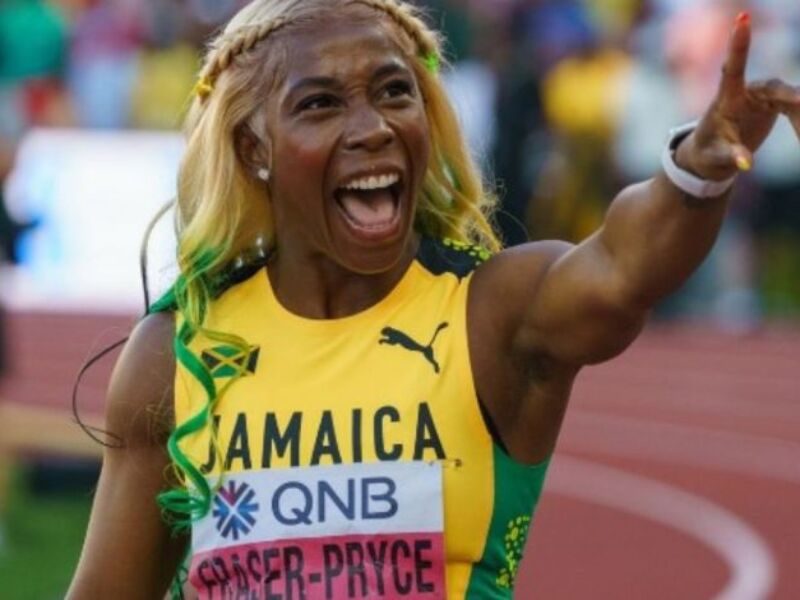 Shelly-Ann Fraser-Pryce stuns in The Women's 100m Final at The Continental Tour in Hungary – Watch Race
Three-time Olympic gold medalist Shelly-Ann Fraser-Pryce continues to stun audiences, recently setting a new meet record at the Istvan Gyulai Memorial Continental Tour in Hungary.
Fraser-Pryce has shown no signs of slowing down after winning her fifth 100-meter title at the World Athletics Championships held in Eugene, Oregon, in July. Only two days after setting her world-leading time in Silesia on Saturday, Fraser-Pryce has set a new meet record in Szekesfehervar, Hungary.
Finishing her race in 10.67 seconds, Fraser-Pryce claimed first place and the joint second fastest time in the women's 100m this year. This will be the fourth occasion that Fraser-Pryce has run that time this year. It was also the time she used to claim her fifth 100m title. American Tamari Davis clocked in at 10.92 seconds to take second place, and Mujinga Kambundji of Switzerland finished the race in 10.99 seconds to take third place.
Jamaica's Natasha Morrison ran her season's best and finished fifth in 11.06 seconds, while Briana Williams crossed the finish line in 11.14 seconds and placed sixth.
Fraser-Pryce's country-men have also garnered success on the Continental Tour, with 200m World Champion Shericka Jackson and Commonwealth Games champion Rasheed Broadbell also winning their respective events on Monday. Jackson won her race with a 22.02-second finish, while Broadbell beat the double world champion, Grant Holloway of the United States, in the 110m hurdles with a 13.12-second finish, just a fraction of a second ahead of Holloway.
Watch race below.