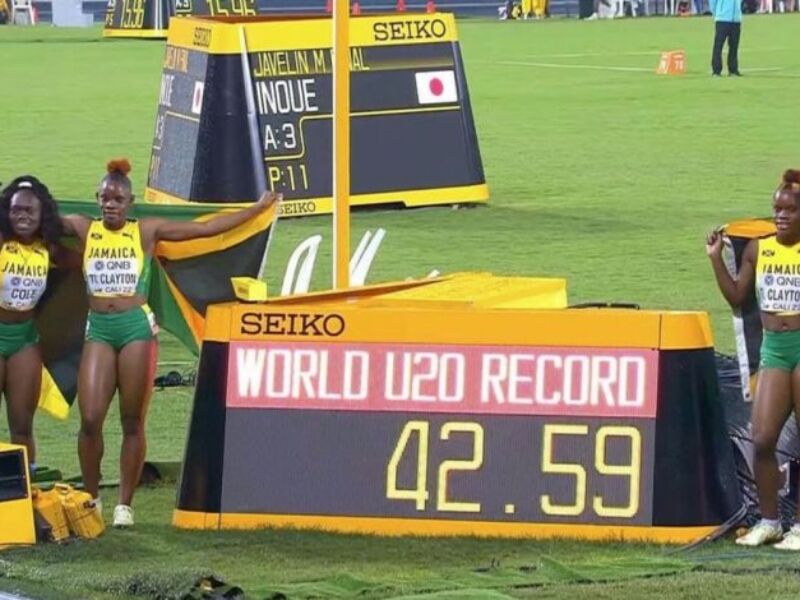 Jamaica Girl Sprinters Set World Under-20 Record in Columbia
Young sprinters Serena Cole, Kerrica Hill, and sisters Tina and Tia Clayton have left their mark on the World Under-20 Championships in Colombia after blazing to the finish line and setting a new age-group record on Friday.
Though the baton changes were not all perfect, the ladies managed to put enough distance between them and their rivals, the United States of America (USA), to cross the finish line in a record 42.59 seconds. They broke the 42.94-second mark they had set at the World Under-20 in Nairobi, Kenya last year.
Team USA finished second and captured silver with a time of 43.28 seconds, a new national record. Colombia ended the night with a 44.59-second finish, claiming bronze.
Prime Minister Andrew Holness took to his Instagram to post a congratulatory message to the young sprinters. "#TeamJamaica has done it again! Congratulations to our young sprint queens on blazing to a new world record of 42.59s and securing the gold medal in the Women's 4x100M at the World Under-20 Athletics Championships in Colombia. The future of Jamaica is certainly bright!" The Prime Minister wrote.
Listen to the commentary of the epic race below.