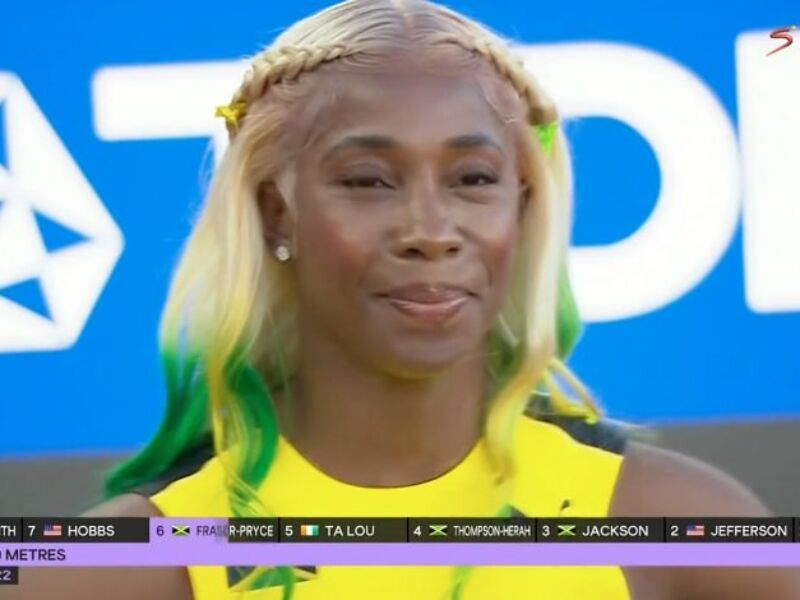 Fraser-Pryce Wins Gold, Jackson Silver And Thompson-Hera Bronze In Women's 100m World Championships Final – Watch Race
"The greatest sprinter the world has ever seen, male or female," said a commentator while talking about Shelly-Ann Fraser-Pryce moments after she won the Women's 100m World Championships Final in a time of 10.67 in Eugene.
The five-time World Champion won the final race of Sunday night, in a championship record time of 10.67.
See the times below.
Shelly-Ann Fraser-Pryce 10.67
Shericka Jackson 10.73 PB
Elaine Thompson Herah 10.81
Heading into the race, the Jamaican females were the huge favourites to take the gold, silver and bronze after a very impressive semi-final by the Jamaican sprinters.
While Thompson-Hera was out to get her first World Athletics Championships medal, Fraser-Pryce was poised to win 5 of her 6 World Championships final, having lost only once before.
Shericka Jackson won the first semi-final of the night in a time of 10.84. Elaine Thompson-Hera won the second semifinal race in 10.82 while Shelly clocked 10.93 to win the third semi-final.
All three females are expected to compete in the 200-metre.
Watch the much-anticipated race below: