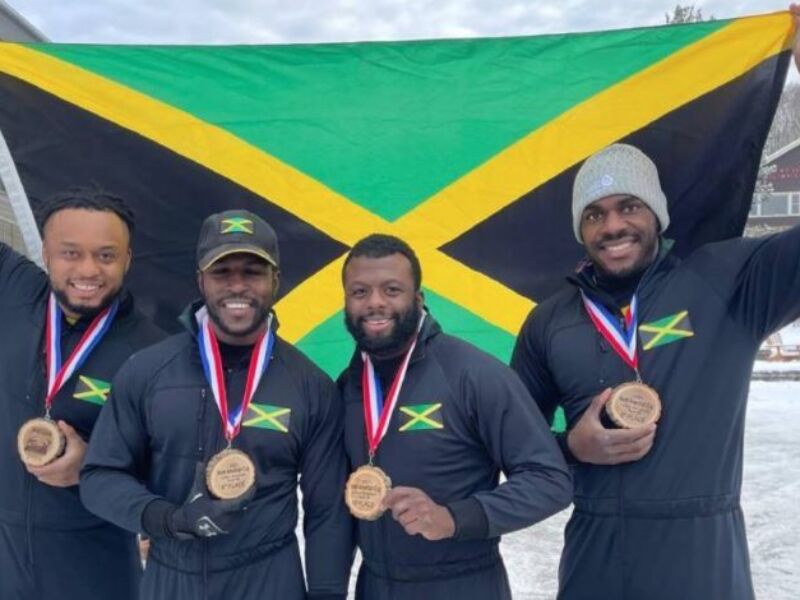 Jamaica Wins Medal In North American Bobsled Competition And Looks Forward To Winter Olympics
The Jamaican team is making great strides in the sport of Bobsled as they recently won a medal in the North American Cup competition held at Lake Placid, New York on the 20th of December.
The team consists of Shanwayne Stephens, Ashley Watson, Rolando Reid, and Matthew Wekpe who had a 7th place overall finish in a time of 1:32:87.
As a part of the two-man Bobsled team, Watson and Stephens who were the competitors for that division also placed 7 overall with a time of 1:55.70.
It is quite an impressive moment for Jamaica, as they continue to develop in the sport of Bobsled which they first competed in, in the year 1988 then successively in 1992, 1994, 1998, 2002, and then 2014.
In terms of the two-man-led bobsled team, Jamaica first entered the competition in the year 2018, in Pyeongchang, China.
In celebration of their efforts, Watson celebrated their first medal by making a social media post letting it known that it was a great way to complete the season as well as to get the chance to now be looking forward to competing in the upcoming Winter Olympic Games.
As a part of the gratitude that was sent out by him, those he thanked were the team coaches, their support team, sponsors, physiotherapists, and others who worked to help them to the point they are at.
As a way forward The Jamaica Bobsleigh and Skeleton Federation (JBSF), are now looking to have new sleds in preparation for the 2022 winter Olympics that is set for Beijing and as such are seeking funding with a target of $194,000 to purchase two monobobs at $27000 for each one and $140,000 to get a four-man bobsled.