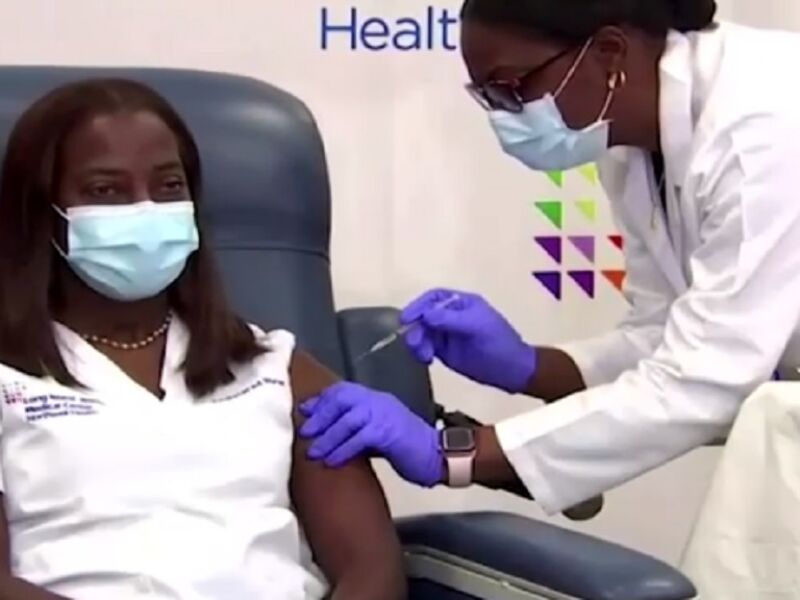 Jamaican-born nurse first to receive COVID vaccine in New York
A 52-year-old Jamaican-born nurse was the first person to get the COVID-19 vaccine in New York as the biggest vaccination campaign in US history kicked off Monday with health workers rolling up their sleeves for shots to protect them from the deadly coronavirus.
It was a day of optimism even as the United States' death toll closed in on 300,000.
"I feel hopeful today. Relieved," critical care nurse Sandra Lindsay said after getting a shot in the arm at Long Island Jewish Medical Center in New York. "I feel like healing is coming."
Lindsay was reportedly born and raised in Jamaica before immigrating to the US in 1986 to further her career in nursing.
Nurse Annabelle Jimenez, left, congratulates nurse Sandra Lindsay after she is inoculated with the Pfizer-BioNTech COVID-19 vaccine, Monday, December 14, 2020, at the Jewish Medical Center, in the Queens borough of New York. (AP Photo/Mark Lennihan, Pool)
Her brother, Garfield Lindsay, took to Instagram to express how proud he was of his sister's feat.
"So proud of my younger sis (for) stepping up at taking the COVID-19 vaccine like a champ. She has witnessed firsthand too many deaths and is leading by example by doing what's necessary to beat this virus. First in the US, I think, so so proud," he said.
With a countdown of "3-2-1," workers at Ohio State University's Wexner Medical Center gave the first injections to applause.
And in suburban New Orleans, Steven Lee, an intensive care unit pharmacist at Ochsner Medical Center, summed up the moment as he got his own vaccination: "We can finally prevent the disease as opposed to treating it."
Other hospitals around the country, from Rhode Island to Texas, unloaded precious frozen vials of vaccine made by Pfizer Inc. and its German partner BioNTech, with staggered deliveries set throughout the day and Tuesday. A few other countries have authorized the vaccine, including Britain, which started vaccinating people last week, and Canada, which began doing so on Monday.
For health care workers, who along with nursing home residents will be first in line for vaccination, hope is tempered by grief and the sheer exhaustion of months spent battling a coronavirus that still is surging in the US and around the world.
"This is mile 24 of a marathon. People are fatigued. But we also recognize that this end is in sight," said Dr Chris Dale of Swedish Health Services in Seattle.
Packed in dry ice to stay at ultra-frozen temperatures, the first of nearly 3 million doses being shipped are a down payment on the amount needed. More of the Pfizer-BioNTech vaccine will arrive each week. And later this week, the FDA will decide whether to green-light the world's second rigorously studied COVID-19 vaccine, made by Moderna Inc.
While the US hopes for enough of both vaccines together to vaccinate 20 million people by the end of the month, there won't be enough for the average person to get a shot until spring.
"This is the light at the end of the tunnel. But it's a long tunnel," New York Governor Andrew Cuomo said.