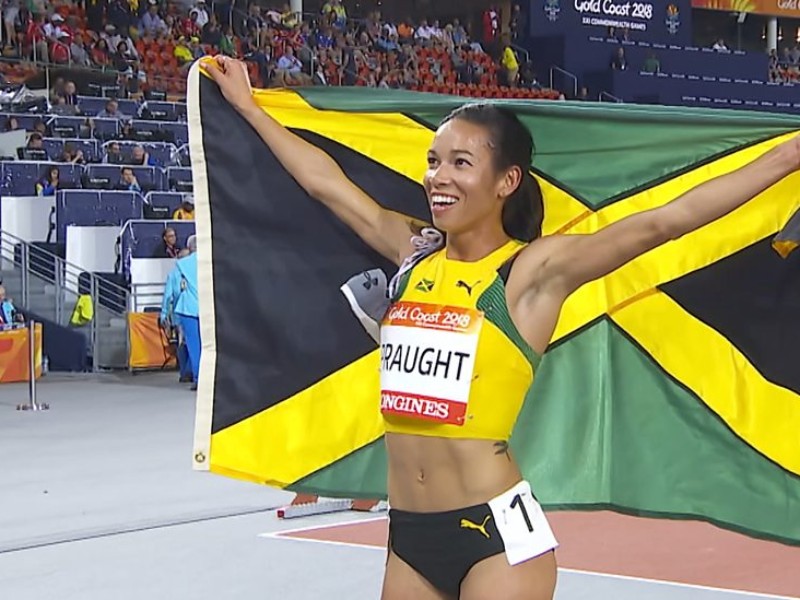 Jamaica wins historic gold medal
BY DWAYNE RICHARDS
Observer writer
Jamaica won their third gold medal of the Gold Coast Commonwealth Games yesterday when Aisha Praught created history by winning the finals of the women's 3,000m steeplechase.
This was followed up with silver and bronze in the women's 400m final through Anastasia Le-Roy and Stephenie-Ann McPherson, respectively.
Following on the two gold medals landed Tuesday night, Praught ran a very intelligent and perfectly timed race to upset the Kenyans who were heavy favourites for the sweep.
Known for their excellence in middle-distance events, Kenya was expected to at least top the podium and probably win all three medals on offer, but the determined Jamaican would have none of it and stalked Celliphine Chespol for the entire race, before going for the kill with just over 150 metres to go.
The 28-year-old Jamaican flew off the final turn in chase of the race leader and blew by her just before going over the final hurdle. Chespol had no response to the stealthy attack of the Jamaican and could only watch as Praught streaked away to write her name in the history books as the first Jamaican woman to win a Commonwealth gold in the event.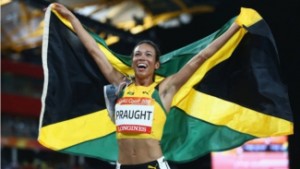 "This means everything to me. It means so much to me and I hope it means so much to other people," said Praught, Jamaica's newest gold medalist.
She is hoping that her success will open the eyes of more Jamaican athletes to other disciplines in the sport.
The women's 400m final was the last track event of the night and a full field of experienced athletes that included the former Commonwealth champion Amantle Monthso of Botswana and the defending champion Stephenie-Ann McPherson of Jamaica faced the starter.
The race delivered on the expectations as the athletes could not be separated coming off the turn. Kenya's big hope, Maximilia Imali, led the field heading into the home stretch but was quickly reeled in, first by Montsho, then the two Jamaicans, McPherson and Le-Roy.
As Montsho pulled away from the field to win in a season-best time of 50.15, Le-Roy remained in chase to eventually land the silver medal in a personal best time of 50.57. It was her first individual senior medal for Jamaica. The defending champion had to settle for third place in a classic final.
Imali finished fifth as she was passed by another Botswana athlete Christine Botlogetswe near the finish line.
Le-Roy was beside herself with joy as tears streamed down her face.
"This is very, very special," said Le-Roy. "Here I was picked to do the 400m and I am just super-excited. I just came out here and did my best with a quality field of Olympians and World champions. I knew I was going to be behind because I was in lane three and the field is strong and these girls go out very hard.
"At the 150 mark, I saw that I wasn't in position where coach Maurice Wilson said I needed to position myself off the turn, so I just tried to keep up with the girls and used my speed and my strength to come home," she explained.
Despite not having the Cinderella story of being the first female to repeat as 400m Commonwealth champion, McPherson was pleased with her efforts nonetheless.
"I just came out here to execute… I am still doing gym and I had gym last week Saturday, so to come out here and to execute a perfect race for me, that is good," she said.
In between Praught's gold medal and the addition of silver and bronze to the bounty, there were a number of other Jamaicans on show on the night.
On the track, the three women advanced to the final of the 200m, following first-and second-place finishes in the semis.
Shericka Jackson ran a personal best time of 22.28 to blow away the field in the first heat and lead all comers into the final.
"Tonight wasn't so bad; it wasn't that cold so it was a pretty good run. It feels good to get a PB (personal best) heading into the final because it's my first time actually competing at a Commonwealth Games. I was there back in 2014, but due to a hamstring injury, I was forced out of the 4x400m, so it just feels good to be here and competing," she noted.
Shaunae Miller-Uibo of the Bahamas got the better of Elaine Thompson in semi-final two as the Jamaican eased down at the tape. Miller-Uibo won in 22.48, while Thompson crossed the line in 22.95 for second. Bianca Williams of England was third in 23.23.
Much more can be expected from the Miller-Uibo-Thompson match-up in the final tomorrow night.
Shashalee Forbes did just enough to qualify for the final in heat three, cruising home in 22.93 behind Crystal Emmanuel of Canada (22.87). Finette Agyapong of England was third in 23.38.
The men were not as fortunate as the ladies as only Warren Weir made it to the final. His time of 20.62 in semi-final one was enough to get him through as one of the fastest losers, but Kenroy Anderson was disqualified and defending champion Rasheed Dwyer's time of 20.82 was only good for fifth in heat three.
In the men's long jump Tajay Gayle, who was competing at his first games for Jamaica, managed a lifetime best jump of 8.12m which was just 10cm outside of a medal place as he ended up in fourth place. Demar Forbes finished eighth with a best of 7.88m.
Jamaica's medal total now stands at 10 – three gold, four silver and three bronze.