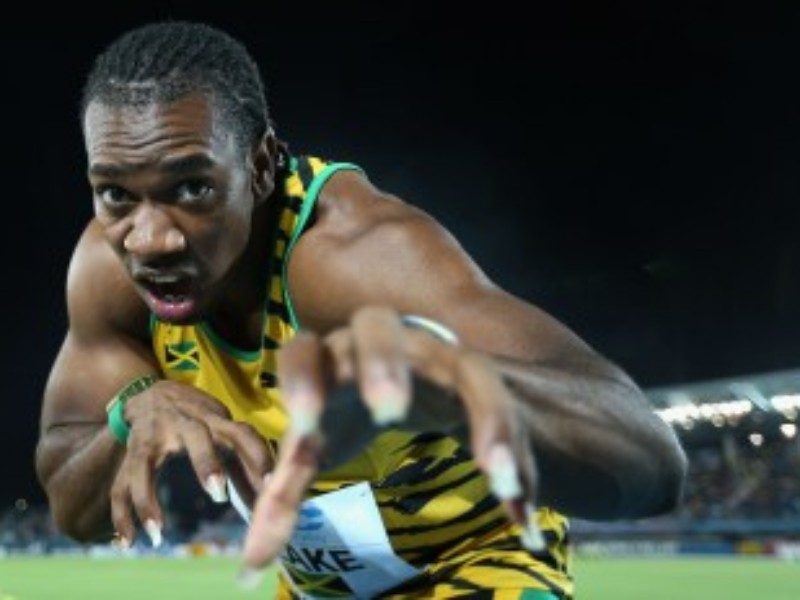 World Class Sprinter Yohan Blake, Lolo Jones beaten at Adidas GP; no high jump WR
NEW YORK –
Yohan Blake suffered a surprising 100m defeat at the Adidas Grand Prix, while Lolo Jones placed a satisfactory third in the 100m hurdles less than 24 hours after flying in from China.
Blake, the Olympic 100m silver medalist, stumbled out of the blocks and clocked a slow 10.21 at Icahn Stadium on Randall's Island on Saturday evening. He finished second to countryman Nesta Carter, who ran 10.09.
"Everybody saw what happened at the start," said Blake, in a hurry to escape the media mixed zone. "There's not much more to say."
Blake, the top rival to Usain Bolt since 2011, owns a personal best of 9.69 from 2012. He missed most of last season with a hamstring injury.
Blake and Bolt likely will not race against each other this season. Bolt recently pulled out of meets in June and July due to a lack of training coming off a foot injury. The next Diamond League meet, in Lausanne, Switzerland, on July 3, features a 100m showdown between top Americans Justin Gatlin and Tyson Gay, who did not run at the Adidas Grand Prix.
In other events Saturday, Jones placed third in the 100m hurdles in 12.77, her first Diamond League meet of the season. Queen Harrison won in 12.62, .01 better than 2008 Olympic champ Dawn Harper-Nelson. World champion Brianna Rollins wasn't in the field.
Jones, who finished 11th in the Sochi Olympic bobsled competition, flew in from a TV appearance in China on Friday.
"At the start line I was seeing 20 hurdles," said Jones, whose next meet is the U.S. Championships in Sacramento, Calif., in two weeks. "My body just fell apart at the end [after the first five hurdles]."
The most exciting event was the men's high jump, where Ukraine's Bohdan Bondarenko and Qatar's Mutaz Barshim took a combined five attempts at a new world record of 2.46m. All failed. Both cleared 2.42m, with Bondarenko getting the win with fewer overall misses.
Mary Cain, the 18-year-old who became the youngest athlete to make a U.S. World Championships team last year, was fourth in an 800m. Cain takes her driver's test Friday, graduates from high school Saturday and plans to run the 1500m at the U.S. Championships.
"[Coach] Alberto [Salazar] wants me to take it slow," said Cain, adding she wasn't tapered for Saturday. "We're training to peak in August."
David Rudisha notched his first Diamond League victory in more than one year, essentially going wire-to-wire in the 800m in 1:44.63. Rudisha, the Olympic champ and world record holder, suffered a knee injury running in Central Park this time last year. The Adidas Grand Prix was his second Diamond League meet back.
Beijing Olympic champion LaShawn Merritt won for the third time in four Diamond League 400m races this season. Merritt clocked 44.19 against a field that did not include Grenada rival Kirani James.
"For me, it's not really about times; I just wanted to get the victory," said Merritt, who will run in the Czech Republic on Tuesday. "It's a matter of getting these races in and handling business."
World Indoor champ Francena McCorory captured her 400m by more than one second in 50.15. The field did not include Jamaican world leader Novlene Williams-Mills, who has run 50.04, or U.S. Olympic champion Sanya Richards-Ross.
Tori Bowie continued her surging season by winning the 100m in 11.07. Bowie competed at the World Indoor Championships in March in the long jump. But in the outdoor season she has won three Diamond League sprints with personal bests in the 100m and 200m and the fastest time in the world in the latter.
Olympic and World 100m champion Shelly-Ann Fraser-Pryce withdrew from the Adidas Grand Prix 200m earlier this week, citing injury.
Jamaican Warren Weir won the 200m in 19.82, the fastest time in the world this year.
Olympic pole vault champion Jenn Suhr was beaten in her Diamond League season debut by Brazilian Fabiana Murer. Suhr, who cleared 15 feet, 6 inches (4.72m) outside in Herald Square on Wednesday, posted 4.70m Saturday and failed at three 4.80m attempts.
Puerto Rican Javier Culson upset Olympic and World silver medalist Michael Tinsley, winning the 400m hurdles in 48.03, the fastest time in the world this year. Tinsley, previously the world leader, was second in 48.56.
New Zealand's Valerie Adams won her 50th straight shot put competition. Adams, whose brother is Oklahoma City Thunder center Steven Adams, hasn't lost since 2010.
Ethiopian-born Swede Abeba Aregawi bounced back to win the 1500m in 4:00.13. Top American Jenny Simpson was third in 4:02.54. At the Prefontaine Classic, Aregawi lost her first Diamond League 1500m since Aug. 17, 2012 to Kenyan Hellen Obiri, who was not in Saturday's race.
source: nbc sports