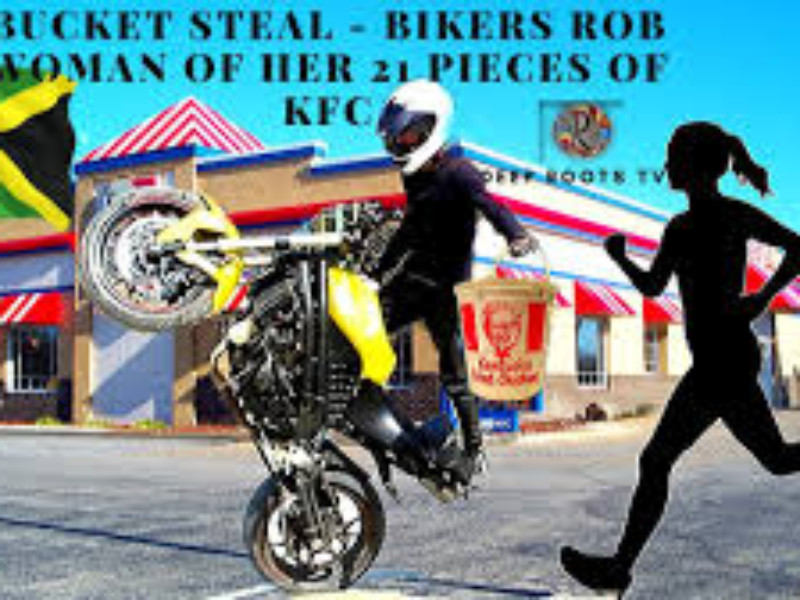 Bucket steal – Bikers rob woman of her 21 pieces of KFC, Jamaica
Miriam was looking forward to biting into a piece of spicy chicken breast that she bought at the KFC restaurant in Cross Roads, St Andrew, on Monday.
The aroma of the fast-food chain's signature fried chicken had sent one signal to her nostrils – eat me. Miriam could not wait to take up the challenge. But as she walked home about 7 that night, two thieves rode up on a motorcycle and made off with her bucket containing 21 pieces of chicken and a two-litre Pepsi that cost $4,820,
"Mi not even did expect it to happen, and to how mi feel shame mi not even think fi go to police because people a laugh after me when it happen so mi think the police dem would a laugh to," Mariam, a mother of three, told THE WEEKEND STAR.
TAKE PRECAUTION
"Mi know a Christmas time and the thieves dem out, but mi shock when it happen because mi did think a mi phone and money dem want. When dem grab mi bag all mi hear miself a seh 'teef, teef, dem teef mi chicken."
Still fearful of being ridiculed, the 37-year-old woman has asked that her identity not be disclosed. She has decided to share her story in the hope that people will take precaution and hide their food from would-be thieves like the ones that caused her and her family to do without their regular chicken fix.
"Chicken normally buy for Friday-Saturday, but we went out last weekend, so mi decide fi buy it Monday for Monday-Tuesday," she said.
Miriam said that since the incident she has heard of other people being robbed of their food in the same vicinity – Retirement Road – by thieves on motor bikes.
THE WEEKEND STAR made checks with the Cross Roads Police Station but was told that there are no records of such incidents.
source: jamaica star