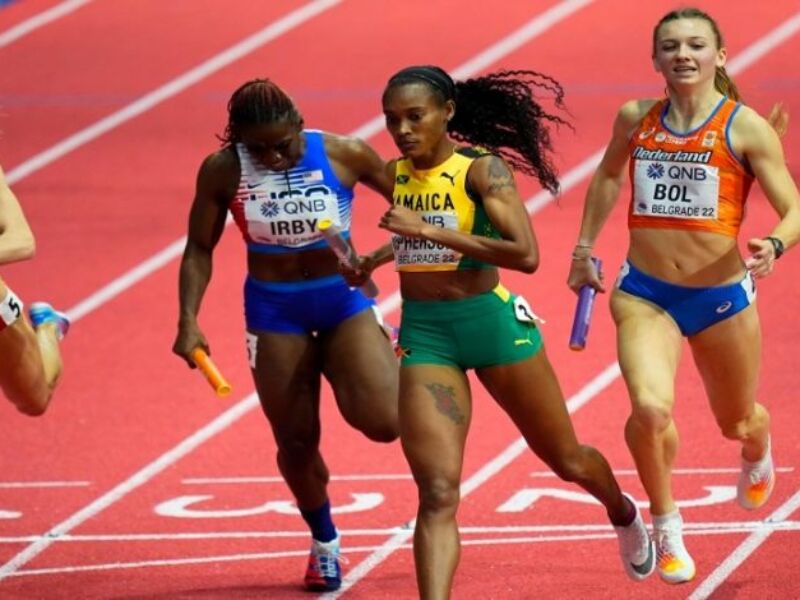 Jamaica Secures Gold Medal In The 4x400m Relay At The World Athletics Indoor Championships (VIDEO)
On Sunday, March 20, the women's 4x400m relay team consisting of teammates Stephenie Ann McPherson, Roneisha McGregor, Junelle Bromfield and Janieve Russell defeated four times reigning champion, the United States of America (USA) to secure a gold medal for Jamaica at the World Athletics Indoor Championships in Belgrade, Serbia.
Stephenie Ann McPherson anchored the team to victory in a time of 3:28.40 after receiving the baton from her teammate, McGregor. McPherson also placed second, the day before, behind Dutch athlete, Femke Bol to earn Jamaica a silver medal in the 400m event.
In the 4x400m relays, Bol anchored the Dutch team to earn a silver medal with a time of 3:28:57, while Justyna Swiety-Ersetic from Poland secured a bronze medal with a time of 3:28.59.
The United States of America (USA) and Great Britain came in fourth and fifth place with a time of 3:28.63 and 3:29.82, respectively.
Jamaica secured three medals at the championship event with Kimberly Williams who participated in the women's triple jump receiving a bronze medal with a season's best of 14.62 metres.
Watch the last leg of the race below.