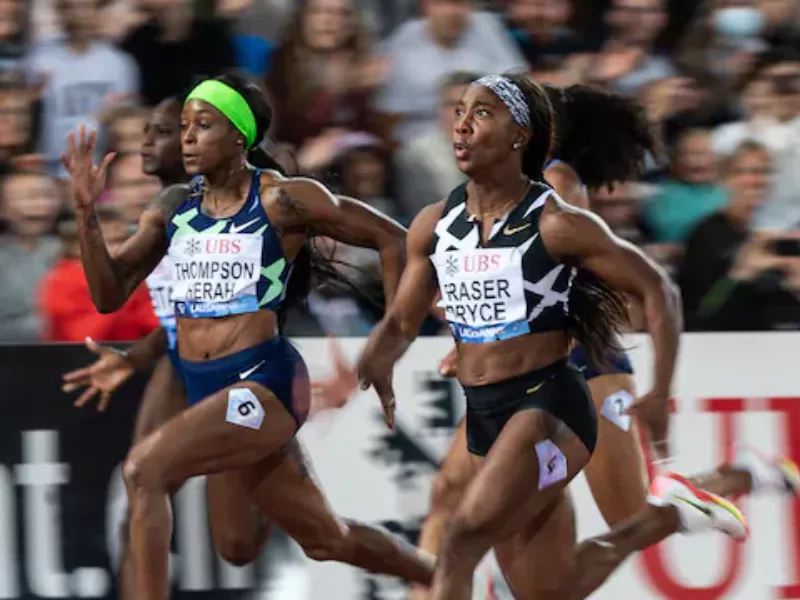 Jamaica Wins 123 Again With Shelly-Ann Beating Elaine In Record Time at Wanda Diamond League, Switzerland (VIDEO)
The enigmatic 8 race winning streak of Elaine Thompson-Herah has finally come to an end and only could have happened by the immaculate sprinting of her Jamaican teammate Shelly-Ann Fraser Pryce, who ran a blistering meet record and personal best of 10.60 at the Lausanne, Diamond league event.
The race was quite an interesting showdown as it featured some of the world's fastest women this year such as Jamaica's very own Shericka Jackson, Marie-Josee Ta Lou from Ivory Coast who placed fourth in the 100-meter finals at the Tokyo Olympics as well as the Swiss sprinter Mujinga Kambundji who has been running well all season.
It was the three Jamaican women, however, that took the show as Elaine Thompson-Herah was second behind Shelly-Ann Fraser Pryce in 10.64 seconds, while Shericka Jackson placed third in 10.92 seconds to repeat the 123 results that were seen in Tokyo and Oregon.
Notably, Elaine had a terrible start which ended up costing her the race, this was her worst start since the national trial, on the other hand, Shelly-Ann was like a rocket out the blocks, possibly her fastest start ever.
This win safely anchors Fraser-Pryce as the third-fastest woman ever, erasing Marion Jones' meet record of 10.72 seconds and now raising more eyebrows in amazement and wonder at how fast the Jamaican women could go.
If that time by the Tokyo Olympics silver medalist was run at the global competition that takes place every four years, it would have also clipped the wings of Florence Griffith Joyner's 10.62 seconds that previously held the title of Olympic record.
The world record for the women's 100-meter sprint is now under immediate threat by not only one Jamaican athlete but two, as 10.54 seconds and 10.60 seconds are both legendary times that are on close grounds to the 10.49 record.
Watch the race below.