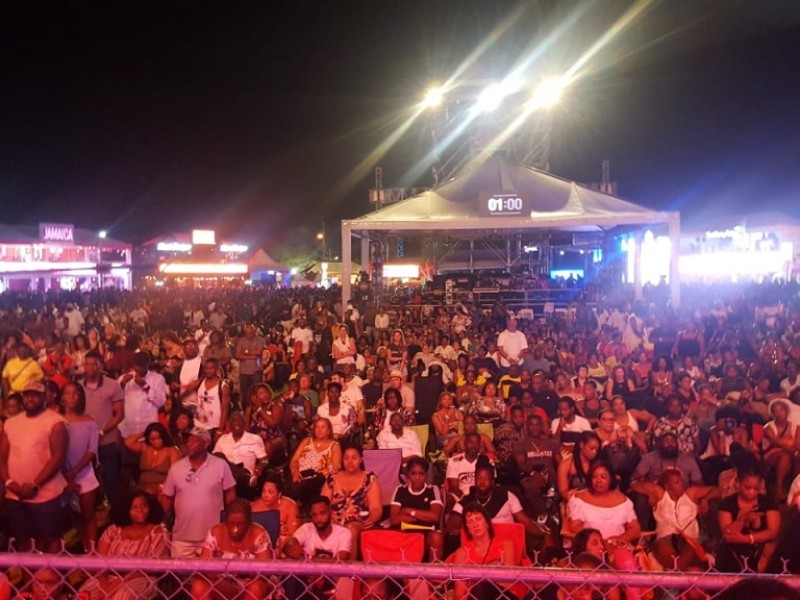 Top 10 Reggae Sumfest 2019 moments
Beenie Man (left) on stage with his former rival Bounty Killer at Reggae Sumfest 2019. (PHOTOS: Marlon Reid)
Here Goes!
1. The Beenie/Bounty double whopper – The performance by the two dancehall icons brought the house down and was one of the most positive moments of the entire festival. Both reeled off their huge catalogue of timeless classics and made Sumfest 2019 a truly memorable event.
2. Dalton stars –  To emphasise his 'rags to riches' journey, X Factor winner Dalton Harris disclosed during his performance that he was being paid $2 million for his set. He was worth every penny! Harris not only showed that he's an excellent singer, but an equally talented performer as well.
3. Tisha's cameo – During his set, Romaine Virgo introduced a young child he called 'Tisha'. Tisha would take the mic and go on to stir the hearts of all and sundry as she performed a piece hitting out against child molesters who she called 'Dutty Men'. Well said, Tisha.
4. The master at work – Beres Hammond never disappoints and his perfromance on Festival Night Two was another memory gem. He was his usual calm mellow self and the audience was left the better for it.
5. No Mas, says the cops – The police pulling the plug and calling curtains on Festival Night One after a two and a half hour allowance drew some vitriolic responses from some members of the audience who had come to see Squash and Chronic Law. One woman was overheard saying the cops did not like Squash and were doing everything to 'fight him down'. The look of disappointment on some faces told the whole story.
6. The reaction of the females to Dexta Dapps – There is something about the entertainer known as Dexta Dapps that stirs the loins of females. It was all too evident on Festival Night One when he took to the stage and relieved himself of his jacket and shirt. The females went wild. "I am wet," one was overheard saying. One man stood beside his woman pouting as she gyrated madly beside him and shouted for the artiste.
7. Warrior Sound winning the sound clash – It was good to see how influential Jamaica's dancehall culture is. The sound system clash at Pier One on Thursday night was full evidence of the power of Jamaica's popular culture as sound systems from Japan, Canada and Germany tackled two Jamaican selectors for top honours. Warrior sound lifted the trophy but Jamaican culture was the winner.
8. Standing and sleeping – One member of the media was so tired and weary by the time the last few hours of Festival Night Two came around, he was observed standing and sleeping in the media centre. A great feat.
9.  Buju stretching back stage – Those close to the 'Gargamel' Buju Banton know that he always does his warm ups and stretches before he enters the stage. In the wee hours of Sunday morning, Buju stretched as he approached the staircase leading up to the stage. However, his entourage was too closely behind him and impeded him somewhat. He told them in no uncertain terms, with a few colourful adjectives thrown in for good measure, to back up. "In the name of Jesus, back up," he said in his inimitable fashion.
10. Great job MCs – Masters of ceremonies at events are often not the ones to grab headlines. However, kudos should be afforded to MCs, Miss Kitty, Nuffy and Boasy Floyd. All three were spot on and had the crowd occupied during band changes and were superb in their introduction of the performers. Well done
souce: loopjamaica